This is one of my most popular recipes with my Paleo and Keto clients.
GF Baked Mexican Lime Chicken Thighs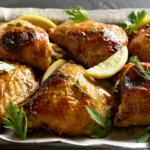 These baked Gluten-Free Lime-Marinated Mexican Chicken Thighs are crispy and deliciously tangy. They are so easy to make and so addictive that they'll be your go-to again and again, especially during those busy weeks! This is one of most requested recipes by my clients and for good reasons! They are a crowd-pleaser and best of all, people with gluten sensitivities and a dairy allergy can savor these without the feeling like they are missing out!
2 lb chicken thighs with skin-on, bone-out (I usually buy them skin-on and bone-in and remove the bones. )
1/3 cup lime juice (from about 1 large or 2 medium limes)
1/8 tsp paprika (sweet or spicy)
1/3 cup arrowroot starch
2 tsp salt
Remove the bones from chicken thighs, leave the skin on. Don't even think of removing the skin! A lot of the flavor comes and all of the crispy goodness come from the skin. You can freeze the bones and make chicken bone broth.

Cut the chicken thighs in half.

Pound the chicken thighs to even out the thickness.

Heat your oven to 450F (or 230C).

Add the thighs to the lime juice and transfer to a large container with a top or a large Ziploc. Leave to marinate at least 12 hrs but overnight is better. The thighs will not taste the same if you marinate for less.

Put the thighs in a colander and leave them to drain for a few minutes.

While waiting, mix the arrowroot starch and paprika in a large bowl.

Pad the thighs dry. Lightly dust them with the arrowroot starch and place them on the parchment-lined half-sheet pan making sure to leave some space in between the pieces.

Place in the middle rack of the oven and cook for 25-35 mins. You'll know it's ready when the skin is crispy and slightly golden.

Serve immediately. We love these sliced in a GF cassava tortilla or flour tortilla topped with guacamole, spicy pico de gallo and sour cream!